The 4 Pillars of Employee Development
4 April, 2022
Employee development is a phrase that constantly gets thrown around in team meetings and board rooms of all organizations. The ultimate objective is to foster such a workplace where each employee is empowered to perform at their best and develop in their respective positions and careers. 
When you take significant steps to develop your workforce, it results in providing you with highly motivated and engaged employees, uplifting productivity and decreasing absenteeism, and increasing revenue. However, in the absence of a framework that can guide you to formulate employee development, efforts to bolster it will eventually fall flat. Add to it the upheaval brought to the organizations by the global pandemic, the ideas about supporting employee development are not as clear as before. As a huge number of employees have been quitting their jobs in the last two years, they are now actively seeking flexibility, work-life balance, and possibilities to make a difference. According to research done by Gartner, 65% of the respondents believed that the pandemic made them reassess the priority their work should have in their life.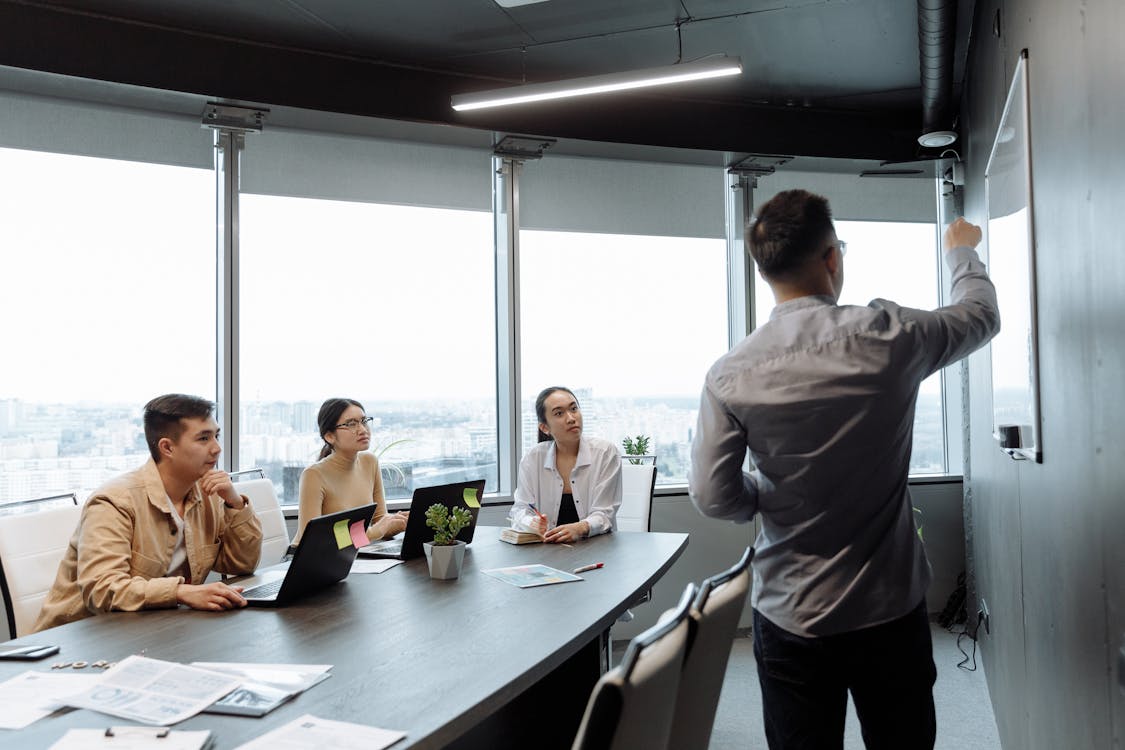 Source: pexels
Now leaders and organizations need to lay a foundation that makes it feasible for their employees to experience their own interpretations of development that will concurrently drive the business strategy. For supporting your employees to become successful – both professionally and personally in your organization, you need to become aware of the four pillars of employee development. 
The 4 pillars of employee development
1) Sufficient tools and time
Organizations tend to become way too focused on goal-setting and hence forget to equip their workforce with the necessities they require for becoming successful. Your employees might have the abilities, but do they have the capacity to become successful? If they do not, it might lead them towards turnover and burnout. One of the most efficient tools for the organization includes staging. For instance, an organization's marketing team can figure out the best possible strategy for selling its services. However, it might all go in vain if the sales staff of the organization doesn't have the capability to close the deal. Your workforce also requires sufficient devices, instruments, and technologies to get the work done efficiently. Moreover, the development of employees also needs an organizational culture that doesn't impose unrealistic expectations where employees are forced to work to exhaustion. 
2) Autonomy
Employee development is also dependent on an organizational culture that appreciates getting opinions from individuals working at all levels. It is no secret that employees and teams need some degree of control over their day-to-day duties along with the freedom to speak up and show vulnerability when they have any concerns. Your employees should be able to decide what they are going to work on, what they are going to think about, and how they are going to approach it. They should be allowed to solicit ideas and feedback when required. Cultivating an organizational culture that embraces employee autonomy requires effort around the organization's rituals, people, and decision-making process. Assisting employees in honing their soft skills like conflict resolution and communication is another incredible way for ensuring that your employees have some sort of autonomy on their job. 
3) Alignment at each level
For tons of employees, success to them is a feeling that they are a significant part of something bigger. It's extremely easy to hang posters of your organization's missions and vision on the wall. The most difficult yet the most important part is to determine how they will relate to the daily work of an individual employee. A survey revealed that 52% of the employees felt that the pandemic made them question the purpose behind the day-to-day duties of their job.  To help your workers in understanding how they fit into the organization's overarching objectives and share the success of the organization, communication is crucial. In practice, this can appear like discussing the values, vision, and mission of the organization during team meetings and gatherings. Along with this, you and your managers should talk about how teams and employees fit into the organization's broader work and how everyone's work matters. 
4) Prospects for development
Organizations have realized that success for their employees doesn't only mean meeting daily deadlines but developing professionally as well. One of the biggest reasons for the employees leaving their organizations is the feeling that they have not been growing. Having been stuck in a single role, employees are getting tired of it. Therefore, organizations are increasingly opting for growth and development plans, based on the interest and needs of their employees. Once these development plans are well in place, it is significant for the managers to follow up with their direct reports for ensuring that they have the resources and time needed to complete their objectives. Make sure you give your employees the resources they need to enhance their skills and do their jobs well. 
Employee development is one of the biggest concerns for organizations looking to have an engaging and productive workforce. To have a well-developed, productive, and engaging workforce contact us today.